Television Quarterly, also known as "TVQ", was published by the National Academy of Television Arts and Sciences beginning in 1962. Television Quarterly featured in depth articles about the TV medium.
Publication ceased with the Spring/Summer 2008 issue.
Extracted From Vol 1 No 1
"Those who are associated with the planning of this Journal believe it is time for a penetrating, provocative and continuing examination of television as an art, a science, an industry, and a social force. Accordingly, our purpose is to be both independent and critical. We hold that the function of this Journal is to generate currents of new ideas about television, and we will therefore try to assure publication of all material which stimulates thought and has editorial merit. This Journal has only one aim -to take a serious look at television.
THE EDITORIAL BOARD"
NATAS
The National Academy of Television Arts & Sciences (NATAS) was created in 1955 to advance the arts and sciences of television. Headquartered in New York, NATAS's membership is national and the organization has local chapters around the country. It was also known as the National Television Academy until 2007. It produces the Daytime Emmy Awards, the Sports Emmy Awards and the Emmy Awards for News and for Technology.
It is a separate organization from the Academy of Television Arts & Sciences, which produces the primetime Emmy awards.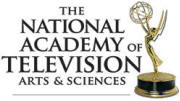 Click to Visit NATAS Site
Many contributions George Csicsery
of Zara Films