Communications
Magazine
Communications Magazine published from September 1937 to 1949 details the technical side of radio and related fields with particularly interesting articles on stations and the development of FM in the 40's. "Communications" is the direct successor to The publications called "Radio Engineering", "Communications and Broadcast Engineering" and "The Broadcast Engineer".
Communications
Related Magazine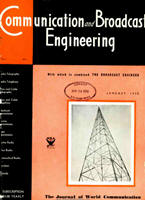 Communincation and Broadcast Engineering. Click for list of issues
Many issues from the collection of Steve Rosenfeld
Communications Magazine
J
F
M
A
M
J
J
A
S
O
N
D
1937
Previously "Radio Engineering"
1938
1939
J
F
M
A
M
J
J
A
S
O
N
D
1940
1941
1942
1943
1944
1945
1946
1947
1948
1949
J
F
M
A
M
J
J
A
S
O
N
D