Radio Daily was issued each weekday and sent by mail. It was published from mid-1937 into the 60's. Later named Radio / Television Daily, it featured daily news updates in approximately 220 annual issues.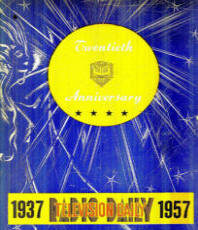 1957: Radio Daily's
20th Anniversary Edition
1962:
Radio Daily's
25th Anniversary Edition
1947-48 Radio Daily's
Shows of Tomorrow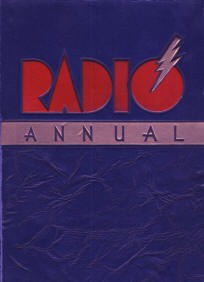 Radio Annual
From the editors or Radio Daily
Station and talent listings
Regulations & Suppliers
1938 to 1964 All Editions
Jack Alicoate was the publisher and editor of Radio Daily. He was born in Seattle in 1889 and he died in 1960, at age 70.

Early in his career, Jack wrote scripts for the movies; he entered print journalism, and after a time reporting about cars, he became the first film critic for the Washington Post. By the early 1920s, he was the editor in chief of Film Daily
and also published the Film Daily Year Book of Motion Pictures and Radio Annual (later Radio/TV Annual).

His brother Charles was co-publisher
of Film Daily, and it is believed that he took over Radio/TV Annual after Jack died.