RCA Review
R.C.A. Review was a technical journal recording progress in radio and electronics as described by scientific workers, engineers and executives of the Radio Corporation of America. In the March, 1947 issue General David Sarnoff, president of the Radio Corporation of America, explains that the R.C.A. Review is written by men of science and engineers not only to relate their past achievements but also to reflect the thoughts of those whose pioneering in research, development and engineering are projecting the present into the future.
Thanks
Our thanks to Stanley Adams who contributed most of the 1950's issues in honor of his dad, Paul Adams, WCPO-AM FM TV, Cincinnati Ohio 1948-1968
and to Steve Rosenfeld who completed the rest of the collection.
Index
Technical Papers 1962
Technical Papers 1963
Vol XXV 1964-6
5
Vol XXVII 1966-67
Collected Television Papers 1950

From RCA Review
RCA Television Book Series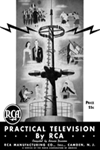 5 Volume Series showing development of TV


Click to visit page
RCA Review Issue List
January

April

July
October

1936
Vol 1 No 1 July 1936
1937
1938
1939

January

April
July
October
1940
1941
1942
Hiatus
Publication suspended during W. W. II
March
June

September

December
1946
1947
1948
1949
March
June
September
December
1950
1951

| | | | |
| --- | --- | --- | --- |
| 1 | | 2 | |

1952

1953

1954

1955

1956

1957

1958

1959
March
June
September
December
1960
1961
1962
1963
1964
1965
1966
1967
1968
1969
March
June

September

December
1970
1971
1972
1973
1974
1975
1976
1977
1978
1979
March
June

September

December
1980
1981
1982
1983
1984
1985
1986
March
June

September

December