"Radio Journal" began as "Talking Machine Journal" in 1916 and changed to "Radio Journal" in 1922.
Radio Journal was a consumer focused technical magazine and gradually became a retail electronics and appliance publication in the 30s. It modified its name to "Radio and Electrical Appliance Journal" following a merger with "Electrical Appliance" and the purchase of "Radio Merchant" around 1936. A merger in the early 40's produced "Radio & Television Journal with Talking Machine World". Post-War, it became "Radio & Appliance Journal" reverting to "Radio & Television Journal" in in 1949. In those years, it used RAJ and RTJ on the cover. There were two volumes per year, January to June and July to December.
Volume numbering is inconsistent.
Please consider lending for scanning or donating any issues
you may have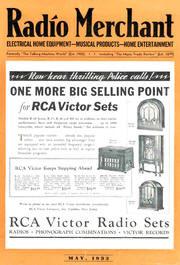 Radio Merchant became part of Radio Journal in 1936


Click to view Radio Merchant