Radio Guide / Movie Radio Guide published listings network radio programming schedules and programs with articles about the stars, stations and networks.. Issued weekly from October 30, 1931 to February, 1943 and then monthly until November 1943. There were as many as 14 regional editions at one time, intended to reflect "local" area programming and stations. Radio Guide morphed into Movie Radio Guide and was the predecessor of TV Guide.
Regional Issues
Radio Guide was published with a variety of regional editions, each showing the major stations in a region of the US. We have attempted to complete a collection of one of each issue. Collecting the regional editions is difficult as most sellers do not specify (or understand) the regional editions.
Radio Guide's 1932 statement of purpose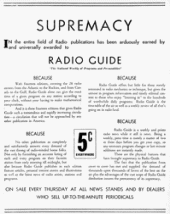 Click on graphic to see full readable version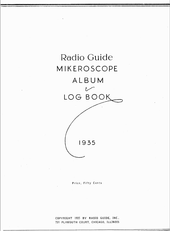 Radio Guide Mikeroscope and Log Book 1935
About Radio Guide
Elizabeth McLeod

, radio historian, says,


"'Radio Guide' began in Chicago and New York in November 1931, as a venture of Moe Annenberg, a former hood and strong-arm man for the Hearst newspaper distribution interests in Chicago (his duties usually involved blackjack-and-brass-knuckle confrontations with distributors of rival publications), who went legit in the twenties as publisher of the 'Daily Racing Form.' For about its first year it was presented in a tabloid newspaper format, with most of its editorial content coming from press releases — although New York Journal radio critic Mike Porter and music critic Carleton Smith were regular contributors from very early on."
"Beginning in 1933,'Radio Guide' began to feature two-color 'art covers' and was presented in a saddle-stitched large-magazine format. There was also a new emphasis on original editorial content, and Chicago Herald-Examiner radio editor Evans Plummer became a regular contributor with his 'Plums and Prunes' column."
"Full color art covers were featured beginning in the spring of 1935, and continued until the magazine switched to black-and-white photo covers in early 1938. Many of these covers were elegant portraits of stars-of-the-moment painted by Charles Rubino, and these issues are perhaps the most collectible of the run. This period also marked the peak of Radio Guide's editorial quality — it published substantial criticism and serious journalism about radio, such as its 1935 expose revealing that elements of 'Major Bowes' Original Amateur Hour' were rigged.
"'Radio Guide' changed both its title and focus in 1940, as a direct result of Moe Annenberg being sent to prison for tax evasion in 1940 -— the magazine was taken over by his son Walter (later publisher of 'TV Guide') and the change to a combination radio-movie format was an attempt to pump up the cash flow by merging 'Radio Guide' with 'Screen Guide,' another troubled Annenberg publication of the era. The transition to 'Movie Radio Guide' was unfortunately accompanied by a sharp drop in editorial quality -- the publication became much more of a shallow celebrity-oriented fan rag, rather like what's happened to 'TV Guide' over the last twenty years."
Excellent old-time radio history site from Elizabeth McLeod including some of her publications and good links
Click on the "ET" to view.