FM Magazine & Other Sleeper Publications
FM Magazine from Milton Sleeper offers an interesting view of early FM, including articles about the early FM Association in 1947 and the equipment and engineering aspects of the band. An article in the first issue available discusses the attitude towards FM by advertising time buyers.

If you have any of the missing issues of FM, please consider lending them for scanning. This site will cover postage and insurance.
Milton B Sleeper was an accomplished publisher, author
and engineer.
Click for a bio of Milton B. Sleeper
Milton Sleeper's
definitive book on FM technology.
Click the cover
to read the book
FM Radio Handbook
1946 Edition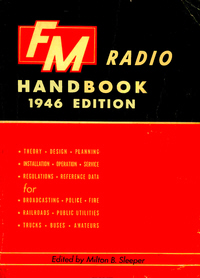 Click cover to read.
Chronological listing with changing titles
Year
J
F
M
A
M
J
J
A
S
O
N
D
FM Magazine / FM and Television
1940
Began Publishing in November 1940
1941
1942
1943
1944
1945
1946
1947
1948
1949
FM TV Radio Communication
Year
J
F
M
A
M
J
J
A
S
O
N
D
1950
1951
1952
TV & Radio Engineering
1953
Communication Engineering 1953-1954
1953
1954
From "
FM Magazine" February 1946
"Milton Blake Sleeper was not merely the graphic artist. M. B. Sleeper was a noted author and radio designer of his own merit. He designed the Pilot Wasp receiver, collaborated with R. S. Kruse, authored numerous radio books, including, Design Data for Radio Transmitters and Receivers, Radio Phone and Telegraph Receivers for Beginners, Radio Hook-Ups, How To Make Commercial Type Radio Apparatus, and Construction of New Type Transatlantic Receiving Sets all in the 1920s. He was also radio editor of Everyday Engineering and originated the plan for what became the successful 1921 transatlantic test conducted by Paul Godley. Sleeper continued to design radios right into the 1950s."
Additional FM Publications
Not by Milton Sleeper

Journal of Frequency Modulation
| | | | | | | | | | | | | |
| --- | --- | --- | --- | --- | --- | --- | --- | --- | --- | --- | --- | --- |
| | J | F | M | A | M | J | J | A | S | O | N | D |
| 1946 | | | | | | | | | | | | |
| 1947 | | | | | | | | | | | | |
| 1948 | | | | | | | | | | | | |