"Short Wave Magazine" originally appeared in August 1935 and apparently did not succeed. The title reappeared in 1937 and we can not discern if it was in any way related to the 1935 publication. This cycle published up to September,1939 when it closed due to the onset of W.W. II. A third era began in March of 1943 and continued to 2005 when it was amalgamated with "Radio Active" to become "Radio User".
Issues courtesy of Peter Merriman and David Andrews. Additional issues from John Beach. History contributed by Angus Graham.
Index available for volumes listed in light yellow lettering. Click the year to open the index.
1937 and 1946 Publication Eras
A bit of history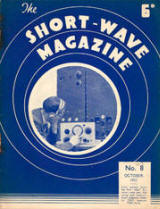 Reappearance
The heavy clouds of war were gathering over Europe and the world when the SRORT WAVE MAGAZINE last appeared on the bookstalls. For nearly three years, gaining steadily in prestige and influence, it had been the only public periodical entirely devoted to shortwave radio. We might perhaps be· allowed to make the modest claim that during its pre-war existence the Magazine succeeded in doing much to foster and encourage the short-wave enthusiast, to help and advise the amateur transmitter and experimenter, and to assist the British manufacturer into an expanding market. We enjoyed a rising circulation and steady support from both the trade and the public. Moreover, the country gained an unseen dividend in that thousands of radio men were training themselves, as a hobby in the art which was to play such a vital part in the winning of the war. Came September, 1939, and within a few days of No. 7 of Vol. III being published, most of the staff and nearly all the regular contributors were in their R.A. F. uniforms. Two of them, the Assistant Editor, S. W. Clark (2AMW) and F. A. Beane (2CUB), a well-known contributor, will not be returning. They were among those who had to pay the full price. We mourn their loss and remember their work.
When the heavy raids on London started, our premises, plant,
records and equipment were completely destroyed, and it began to look as if the SHORT WAVE MAGAZINE might become no more than a memory. So much for the past. We are now looking forward to the future. You have in your hands No. I of Vol. IV. We hope you will like it.
The Editorial policy of the SHORT WAVE MAGAZINE is unchanged, and can be summed up in the words on the front cover. We stand for the advancement and expansion of the art of Amateur Radio, and all that pertains to it. We cannot expect, and indeed will not attempt to please all tastes in every issue, but we shall hope to cover all
interests ·in successive issues.
We also wish to see, and will do everything possible to assist, a
"flourishing trade in amateur equipment of British deign and manufacture. To our business friends, we offer the suggestion that row is the time to study and develop the home market for amateur short-wave equipment both in components and finished apparatus. the Dollar Agreement may otherwise result in American manufacturers, now waiting to export to us, capturing the market.
Index
Click on the "Year" for each volume's Index of articles for years in

yellow
Year
Short Wave Magazine
A
1935
Single Issue in 1935. Did not Return Until 1937

Second Incarnation of this title
Year
J
F
M
A
M
J
J
A
S
O
N
D
1937
First Issue
Second Era
March 1937










1938












1939









Ended initial era in September, 1939
Third Incarnation of this title
Year
J
F
M
A
M
J
J
A
S
O
N
D
1946
Second era began in March, 1946










1947












1948












19

49












Year
J
F
M
A
M
J
J
A
S
O
N
D
1950












1951












1952












1953












1954












1955












1956












1957












1958












1959






No Issues
Jul & Aug




Year
J
F
M
A
M
J
J
A
S
O
N
D
1960












1961












1962












1963












1964












1965












1966












1967












1968












1969












Year
J
F
M
A
M
J
J
A
S
O
N
D
1970












1971












1972












1973












1974












1975












1976












1977












1978












1979
--

--



--

--





Year
J
F
M
A
M
J
J
A
S
O
N
D
1980












1981












1982












1983












1984












1985












1986












1987












1988












1989












Year
J
F
M
A
M
J
J
A
S
O
N
D
1990












1991












1992












1993












1994












1995












1996












1997












1998












1999











Year
J
F
M
A
M
J
J
A
S
O
N
D
2000











2001











2002












2003












2004






2005





Year
J
F
M
A
M
J
J
A
S
O
N
D