Note on Contents
Some issues are complete with covers and original advertising. Others come from the year-end edition which only included editorial content with no ads and covers.
IEEE
The IRE and the AIEE merged in 1963.
We have a collection of IEEE "Spectrum" Issues


Click the logo to view them.
Other IRE Publications
Fiftieth Anniversary
IRE Transactions of the Broadcast Group
This collection made possible through a donation from The
Pavek Museum
and
additional scans from Google and the library of Steve Rosenfeld
A lovely set of 3 three 40's volumes was contributed by Michael Callahan K1MPC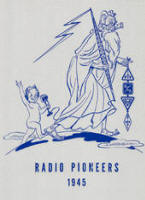 1945 Radio Pioneers issue
Click to View
Cover from binders
sold in the 1940's


Courtesy of Michael Callahan
Radio Makers After the War


1944
IRE Dictionary
1961