Melody Maker was a British weekly m

usic newspaper and

one of the world's earliest music weeklies It was founded in 1926, as a magazine for dance band musicians and "big bands".
Originally the Melody Maker concentrated on jazz. It was slow to cover rock and roll and lost ground to the New Musical Express which had begun in 1952. MM launched its own weekly singles chart on 7 April 1956,and an LPs charts in November 1958. From 1964, the paper led its rival publications in terms of approaching music and musicians as a subject for serious study rather than merely entertainment.
By the late 1960s, MM had regained its success, principally by targeting an older market than the teen-oriented NME. MM had larger and more specialized advertising; musical groups would advertise for musicians. It ran pages devoted to other genres, such as folk and jazz, as well as detailed reviews of musical instruments.
In 2000 it was merged into New Musical Express.
Please loan or contribute any issues you may have in the basement/cellar, attic/loft or garage!
WIKI
Wikipedia Article on
Melody Maker
Barry Monks' Melody Maker Facebook Group
Credit for many issues goes to Barry Monks.
View his Facebook Melody Maker page by clicking the link above. Much more interesting Melody Maker information and discussion!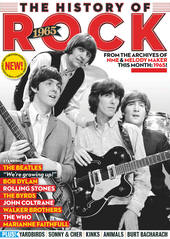 The History of Rock


From NME and Melody Maker
Articles and Photos taken from UK Music Magazines