Record World was a U.S. music industry trade magazine published from 1946 to April of 1982. Until 1964 it was called "Music Vendor"
Wiki Article
about Record World
NOTICE
Incomplete Issues
Many issues have missing pages or ads and articles cut out. This is a very hard publication to obtain, and we managed to get issues that had been saved at a number of record companies like Del Fi and Original Sound and had spent many years in storage. We will attempt to fill in the missing issues and missing pages, but for the moment this is a large collection of a very rare magazine.
In general, music trade magazines often had their charts removed to post in a record company office or in a music store, so finding complete issues is a challenge!
Our philosophy is "something is better than nothing" so we post incomplete issues until something better comes along.
If you have any of the needed or incomplete issues, please donate or lend them for scanning. Or

CONTACT

us for scanning instructions
The date in

GRAY

indicates the position of a missing issue.
Contributors
Valuable assistance in obtaining issues of this magazine has come from Dave McAleer, Eugene Overton and Nigel Maxey.
Record World Buyers Guide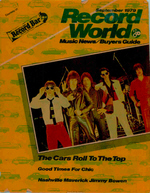 Consumer Publication given out at Record Stores
April
June
September 1979
October 1979
Record World Publications
Country Music Who's Who 1970
Country Music Who's Who 1972
David Skinner was the cartoonist for Record World from 1977 to "the end".
Click the cartoon to view this example in larger size.
Click here to see his collection