Practical Wireless

is a British radio and

electronics

magazine, The magazine was founded in 1932 (as a supplement to "Hobbies") by

FJ Camm, of

George Newnes

Publishers. It became an independent weekly in September of that year, then became a monthly in 1940, due to wartime paper shortages. Camm was editor until his death in 1959. Practical Television

was a supplement to the magazine for a short while before the war and became a separate publication in 1950. In January of 1935, Practical Wireless absorbed "Amateur Wireless" magazine by means of a merger.
"Practical Wireless
Service Manual"
Editions
3rd Edition
1941
6th Edition 1944
7th Edition 1946
8th edition
1949
Help Complete this Collection
This site is always looking for the issues needed to complete the collection. Let us know if you have any you can donate, scan or otherwise provide.
Credits
Issues courtesy of Mitch Buchman, Jim Jobe, Peter Merriman, Aarion Lee, Dave Moll, Arthur Missira and Alex Hiley
Major revisions and additions by David Andrews
Supplements
CB Supplement 1981 July
HF Datacard 1981 Nov
Glossary 1981
Supplement 1982 Nov
Supplement 1992 Dec
Index 1985-1989
Index 1980-1984
Timeline

Compiled by Dave Moll
23-01-1932
Practical Wireless began as a supplement inside "Hobbies" magazine.

24-09-1932
First issue of Practical Wireless (as a weekly magazine)

09-12-1933
First appearance of Practical Television as a supplement
in Practical Wireless, becoming weekly from 20-01-1934

01-09-1934
Supplement in Practical Wireless becomes Amateur Television

Sept. 1934
Practical Television first published as a separate
monthly(?) magazine*

26-01-1935
Practical Wireless becomes Practical and Amateur Wireless

16-02-1935
… and Amateur Television added to the title

18-09-1935
Last supplement of Amateur Television, but retained in title until
at least 28-09-1935

?? 1940
Practical Wireless reduced from weekly to monthly**

??
Practical Television ceases publication**

March 1949 Practical Television restarts as a supplement to Practical Wireless

April 1950
Practical Television restarts
as a separate magazine

Nov. 1964
First issue of Practical Electronics magazine

Oct. 1970
Practical Television drops the "Practical" to become just Television

Nov. 1992
Practical Electronics merges with Everyday Electronics to become Everyday Practical Electronics

May 2008
Last issue of Practical Television magazine before it ceases publication

From the first issue
Practical Wireless makes its debut in the confident belief that it will receive a hearty welcome from the large and ever-growing circle of wireless
Enthusiasts, more particularly those interested in home construction and the experimental side of wireless. Although in the brief space of a very few years the knowledge
of this fascinating new world of the ether has grown to large proportions, we are still
little more than on the threshold of the intriguing possibilities the future holds forth. Rapid as the advances have been, the near future will bring forth new discoveries, new ideas, and new techniques just as certain as day follows night, and every wireless enthusiast, if he is to derive
full pleasure and interest from his hobby, will require as an absolute necessity that
this knowledge be kept right up to date.
Datacard System 1973-74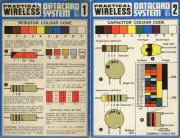 Click to view this supplement with issues
from 10/73, 11/73,
12/73 and 3/74